If you are proceeding you are downloading archive data from the Conrad Observatory.
Please take into account that all observation data of the Conrad Observatory is licensed based on Creative Commons CC-BY-NC_4.0 AT, some project data is licensed based on CC-BY_4.0 AT.
Publications making use of Conrad Observatory data need to contain a reference similar to the following example: Presented results are (partly) based on data of the Conrad Observatory, which is an installation of Geosphere Austria.
The data menu provides access to current measurement values at the Conrad Observatory on various different ways:
realtime diagrams of selected sensors can be accessed with  "Live Diagrams".
"Current values" contains a number of actual measurement values and live pictures from the observatory.
The discipline sub menus like "Earthquakes", "Earth magnetic field ", und "Weather" provide detailed information on the respective discipline and their data sets.
Descriptions of an automatic access to realtime data, as well as tables of measurements values can be found in "webservice".
Starlink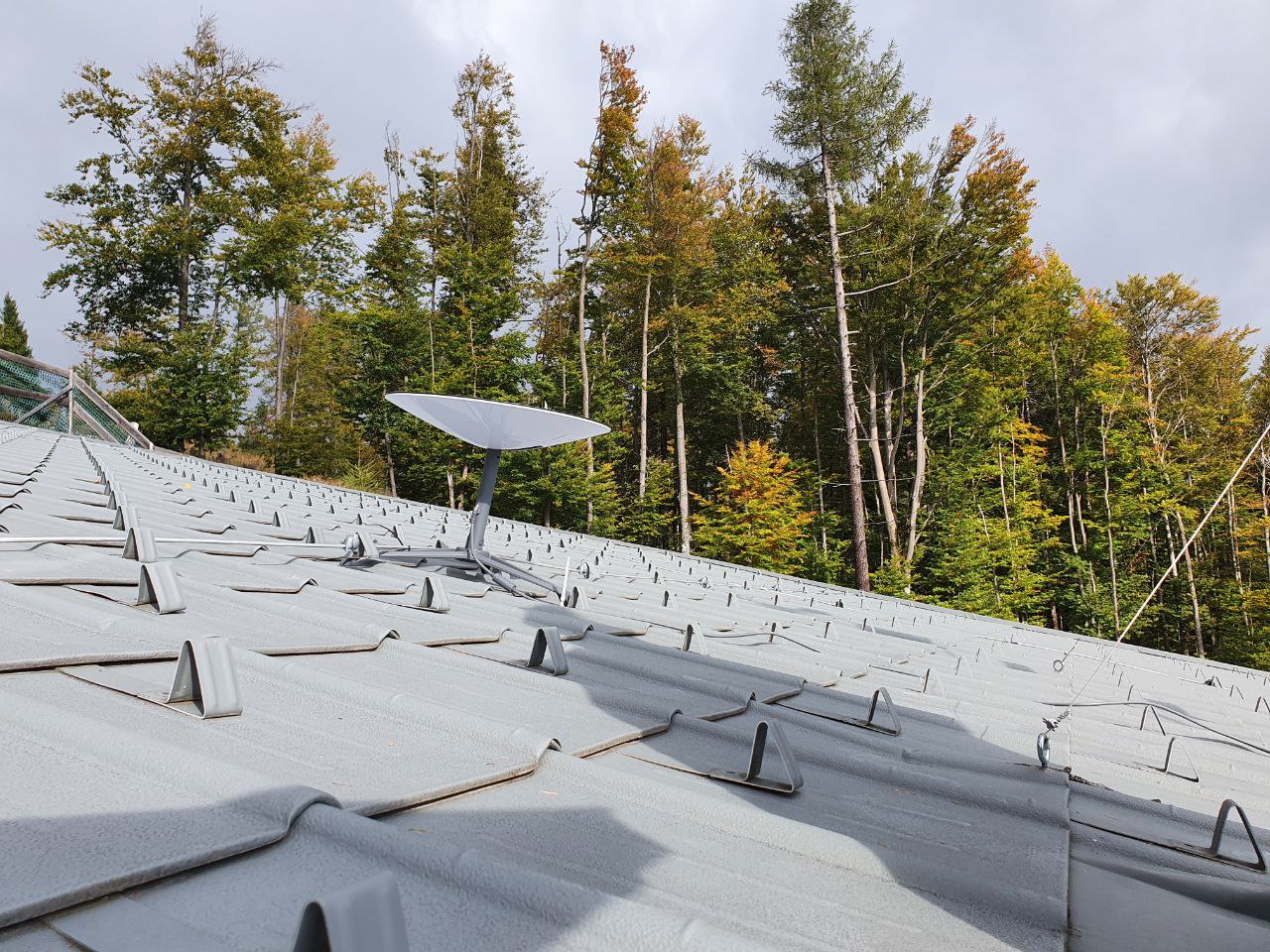 Starlink is a satellite network, maintained by the SpaceX company, which should provide global Internet access in the future. A beta test has started in 2020. In 2021 I applied as beta tester for the then available system in mid latitudes. As a geophysical observer I am interested in whether such system can assist us in broadcasting our open earth observation data particularly from remote locations and whether the bandwith is suitable for remote operations and maintenance.
Geophysical data from seismometers, geomagnetic sensors, meteorological stations and many other related disciplines are often obtained from remote locations. Detailed analysis and interpretation of such data needs to be conducted near real time in order to facilitate in time hazard warnings. Data transmission is usually a significant problem. When needing remote control features bandwidth becomes essential. The Starlink antenna might provide a solution for such problems.
Terrella
Terralla is an art project enabling you to listen to sounds of the Earth's magnetic field. Terrella uses live data from geomagnetic observatories around the world and turns it into music. It is recommended to use headphones. Details can be found here: http://geomagneticmusic.net/
Geomagnetic reversals
Investigating the occurence, morphology and consequences of geomagnetic field reversals is the primary goal of this project. Within the framwork of an FWF proposal (P30523-N29) we aimed on identification and sampling transitional geomagnetic field information at three sites: in Styria (Austria), São Nicolau (Cabo Verde) and St. Helena. The first target for the paleomagnetic search of intermediate field directions were the Pleistocene and Pliocene volcanic rocks from South-East-Austria (Styria). 28 sites were sampled on eight Pliocene volcanoes of which four gave paleo-directions and intensities in the range expected from secular variation. The remaining 4 volcanoes have low paleo-inclinations and intensities. A transitional geomagnetic field configuration was recorded during the short eruptive activity of these volcanoes. Two new 39Ar-40Ar ages allow the correlation of the Styrian transitional directions with cryptochron C2r.2r-1 of the geomagnetic polarity time scale. As a cryptochron has a short duration of less than 10 to 30 ka, at least 4 of the investigated 8 Styrian volcanoes have been formed in a much shorter time interval than previously suggested. Results are published here . The second sampling campaign was conducted on island São Nicolau (Cape Verde) in October 2018. According to Duprat et al. (2007) the island is built up by basalts of predominantly late Miocene to Pleistocene age. We sampled three promising sections containing field reversal, but did font find transitional directions. A publication on secular variation is in preparation. Finally, a third sampling campaign on St. Helena was undertaken. We sampled in detail and expanded a section already investigated by our collaborators in Liverpool in which a field transition is recorded. Additionally, one other section with mixed polarity was sampled. Most of the obtained paleointensities are considerably lower than the present day or the dipole field intensity. During the polarity transition a drop in the field strength is apparently not present. Although we could discover transitional geomagnetic field directions in two of the projected three volcanic provinces modelling of the geomagnetic field during a field transition is hampered. Examples of such global models can be found here .
Medieninhaber und Herausgeber
Geosphere Austria (GSA)
Adresse: 1190 Wien, Hohe Warte 38, Österreich
Tel.: +43 1 36 0 26
Fax: +43 1 369 12 33
E-Mail: This email address is being protected from spambots. You need JavaScript enabled to view it.
Die Geosphere Austria ist eine Forschungseinrichtung des BMBWF (Bundesministerium für Bildung, Wissenschaft und Forschung).
Urheberrecht
Die durch die Seitenbetreiber erstellten Inhalte und Werke auf diesen Seiten sind urheberrechtlich geschützt. Die Vervielfältigung, Bearbeitung, Verbreitung und jede Art der Verwertung außerhalb der Grenzen des Urheberrechtes bedürfen der schriftlichen Zustimmung des jeweiligen Autors bzw. der Geosphere Austria. Downloads und Kopien dieser Seite sind nur für den privaten, nicht kommerziellen Gebrauch gestattet. Das Logo der Geosphere Austria ist eine im Markenregister des österreichischen Patentamtes eingetragene Marke.
Sie können zu allen unseren Seiten gerne Links von Ihrer Website setzen. Sollten diese Links jedoch auf andere als die Startseite weisen, kann keine Garantie dafür gegeben werden, dass diese URLs auch in Zukunft unverändert bleiben.
Soweit die Inhalte auf dieser Seite nicht vom Betreiber erstellt wurden, werden die Urheberrechte Dritter beachtet. Insbesondere werden Inhalte Dritter als solche gekennzeichnet. Sollten Sie trotzdem auf eine Urheberrechtsverletzung aufmerksam werden, bitten wir um einen entsprechenden Hinweis. Bei Bekanntwerden von Rechtsverletzungen werden wir derartige Inhalte umgehend entfernen.
 
Haftung für Links
Unser Angebot enthält Links zu externen Websites Dritter, auf deren Inhalte wir keinen Einfluss haben. Deshalb können wir für diese fremden Inhalte auch keine Gewähr übernehmen. Für die Inhalte der verlinkten Seiten ist stets der jeweilige Anbieter oder Betreiber der Seiten verantwortlich. Die verlinkten Seiten wurden zum Zeitpunkt der Verlinkung auf mögliche Rechtsverstöße überprüft. Rechtswidrige Inhalte waren zum Zeitpunkt der Verlinkung nicht erkennbar.
Eine permanente inhaltliche Kontrolle der verlinkten Seiten ist jedoch ohne konkrete Anhaltspunkte einer Rechtsverletzung nicht zumutbar. Bei Bekanntwerden von Rechtsverletzungen werden wir derartige Links umgehend entfernen.